My Thriver RV Travels Part 3
Darling Thrivers,
I am thrilled to be bringing you Part 3 of my Thriver RV Journey!
Before living in a motorhome, I had never imagined how it could work. Now, after doing it easily for 3 months with Glenn and the 2 kitties – I really believe that this is something everyone should do if they can.
We were so blessed that I could work while we travelled, otherwise this lengthy trip could not happen.
Okay, so taking up from where we left off (Part 2 – you can also read Part 1 here) after the rescue mission with our lovely young French couple whilst crossing the desert between Northern Territory and Queensland, we came into a tiny town called…
Torrens Creek
Population 20.
We were wondering, what does that mean? It meant a pub/ service station / caravan park all in one. Nothing else … apart from 2 houses that we saw.
Here we had a lovely break from the harsh, hard drive from Mount Isa to Townsville. The roads are bitumen but really poor. There are terrible road dips, potholes and lumps and fierce crosswinds.
Northern Territory outback roads are far superior to Queensland ones. We met people towing caravans who don't do over 70kms an hour because it is too dangerous. Upon stopping, I said immediately, "Let's get a ginger beer!" (my new thing), and after two I relaxed as Glenn swam in the pool – the water was much too cold for me!
Then we were on our way again to Townsville – a northern Queensland border town. Our outback crossing, with the rescue mission took a total of 5 days. It's a looooong way!
Townsville
Townsville is really gorgeous. The beachfront. The Strand boulevard. Overlooking Magnetic Island.
We had no idea just how lovely. Stunning! And quite the shock to be in civilisation again!
Interestingly the driver's side front tyre was completely bald on one side, and needed to be replaced. It happened in the outback crossing; the fierce crosswinds needing Glenn to fight against them with the steering wheel.
Crazy!
Now that we were on our way up to the top of the Queensland East Coast, we started researching and planning some lovely stops.
Panuma
Heaven continued.
After an awesome Thriver Bootcamp final class with many of you beautiful peeps, we drove to Panuma, a very small mountain town heading towards Cairns.
Glenn, the crazy person he is swam in icy cold mountain water … nuts!!! He just had to do it!
This spot was akin to a Garden of Eden. Beautiful.
Then, from Panuma we drove to Ingam.
Ingam
This was a gorgeous random spot, an off-grid RV park with stunning nature surroundings.
Everywhere that you looked there were birds, wallabies, turtles and yes the friendly neighbourhood
crocodiles, one in particular (a big salty) that had been seen in the last 7 days.
I made several short MTE videos in this amazing spot, making sure I was AWAY from the water's edge!
We were excited the next day to see the largest single drop waterfall in the whole of Australia.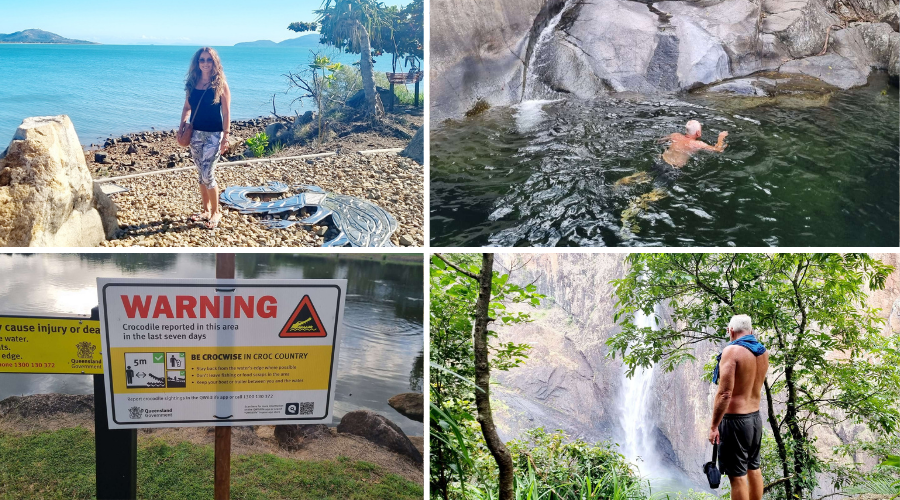 Wallaman Falls
The lookout scenery was breathtaking and then we took the walk down to the waterfall itself.
It's a long way down with the appropriate warning signs. We love these challenges! People saw us doing it in thongs (flipflops, not underwear, thongs is an Aussie word) and thought we were crazy!
Glenn found a way to swim in the waterfall pool which I believe hardly anyone ever does. It is ferociously powerful. After doing so he said it was almost even too much for him. (He is the original adventure dude!)
On the way back cows were all over the road. I had the joy of playing cow herder to clear the road. I really wanted to cuddle a calf but it wasn't so keen! (I have this urge to cuddle every animal imaginable – except crocodiles).
Mission Beach was our next stop … and this became specifically about Dunk Island. Glenn had lived there for a while when he was young and was keen to revisit.
I just wanted to see it.
The were no passages from Mission Beach to Dunk Island available, so we came up with a plan!
Dunk Island
We did it … took our little 3 metre zodiac boat from the mainland over to Dunk Island, in crocodile territory.
I'm croc conscious – I did the research. Yes, they are there, no one has been eaten from a small boat yet, and I said, "Yep let's do it!"
When we were getting out through the break, a huge wave came over the back of the boat and soaked everything. I started thinking, "Is this really a good idea, and thank god there were no crocodiles in that wave – (do they surf)?"
On we pressed, and thank goodness the journey got smoother and before long we had arrived at Dunk Island.
I said to Glenn, "Let's go to the shop for some food" (Our food was soaked and ruined). He roared laughing and said "Melanie, there are NO shops here."
Ha, ha I had been thinking "Hamilton Island!" (I can be seriously ditzy sometimes!)
Anyways, what an awesome day even without food. We had an incredible walk to the lookout at the top of the mountain. It's very sad to see the damage that still exists from the cyclone years ago. Dunk Island has just been sold again and they are rebuilding.
Maybe it will come back to its former glory?
The adrenaline wasn't finished with though. There was a lagoon on the island and Glenn went in it. I yelled, "Get out babe, you don't know what is in there! It doesn't FEEL okay!" (I totally listen to my intuition.)
Later, we got talking to a caretaker who told us YES there are not one, but TWO saltwater crocs in that lagoon – and by the afternoon (which it was) after getting sun they become super-charged!
Adventure men ESPECIALLY really need to be more cautious.
Then our journey northward continued.
Port Douglas
Port Douglas, is an affluent holiday destination, yet it caters to everyone.
There you will find lifestyles of the rich and luxurious as well as the everyday knockabout person who starts drinking at 10am in the morning at the hotels.
I found it mega civilised after being in the outback.
And … I'm a girl … and only human … I just had to shop!
Mind you I really am much more in love with nature spots – but who was I to say "no" to a bit of luxury!
Then we left for the final destination north.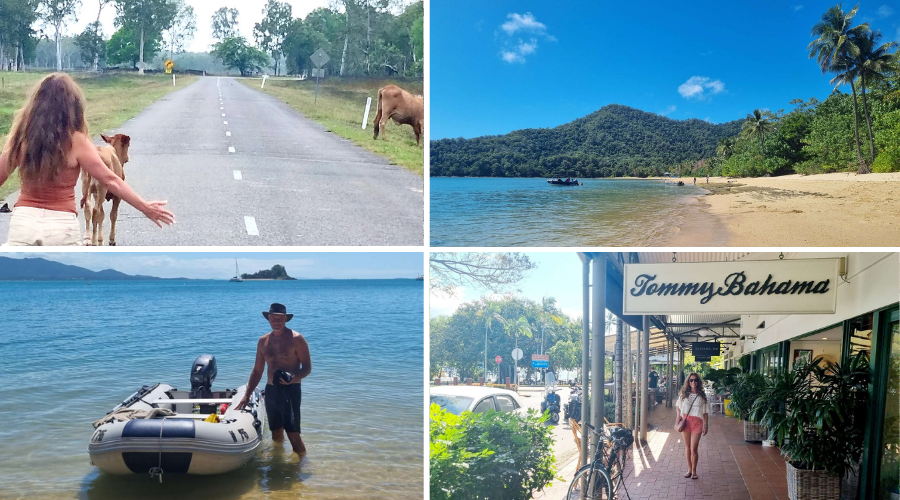 Cape Tribulation
I had never been here before. It is where the Daintree Forest (the oldest rainforest in the world) meets the other natural wonder of the world, the Great Barrier Reef.
Cape Tribulation is cut off from the mainland. You can only access it by ferry over the Daintree River.
As soon as we crossed the river and started driving towards Cape Tribulation, Glenn and I just looked at each other … "Where on earth are we?" It was like another world. It was as if we had stepped into Jurassic Park surrounded by greenery and scenes that were almost too beautiful to take in.
When we arrived at the RV park in the absolute centre of Cape Trib we decided to stay much longer than we had anywhere else other than Darwin. We just knew we had to find out more about this magical place.
Plus there was no further to go North – it was impossible to go any further than here unless we had a four-wheel drive. Here we were at the absolute top of the east coast of Australia for 2 wheel drive vehicles.
This paradise delivered in spades. We snorkelled out at the Great Barrier Reef with mind-blowing colourful plentiful coral, fish, clams and turtles (no crocs out there). We went horseback riding, soaked in the sun, met the locals, breathed in the ozygenated air from the forest and felt more alive than we could remember.
We fell in love (updates about this coming soon).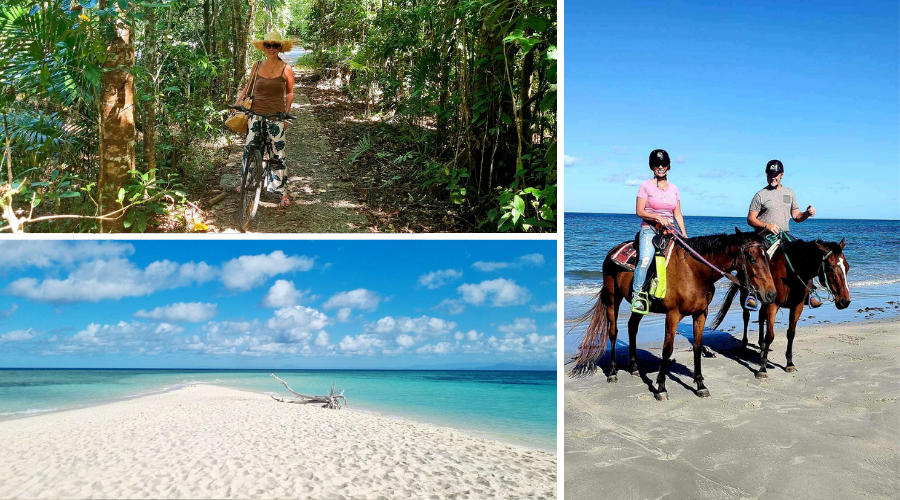 Chloe And Ruby Update
The kitties love the motorhome. They are so relaxed with travelling – they hop under the bed into their safe space, pop out as soon as we arrive somewhere – snuggle, play and cuddle up to us at night with purring. Chloe crawls under the doona, sticks her paw on my face and licks my nose!
Ruby when I am not in the bed, takes my place and snuggles up to Glenn – she is a Daddy's girl, who I think wants to replace me. It's hilarious!
When we are in safe places, we let them out for a stroll and they are both fantastic. We supervise and when it's time to come in they are very easy to round up. They don't try to run away. People are shocked at how well behaved our kitties are. I truly do believe that the RV life could be their life forever – even though it won't be.
It think it's because they have so much of our attention – especially me because I am doing work in Alena Starbus so often for MTE.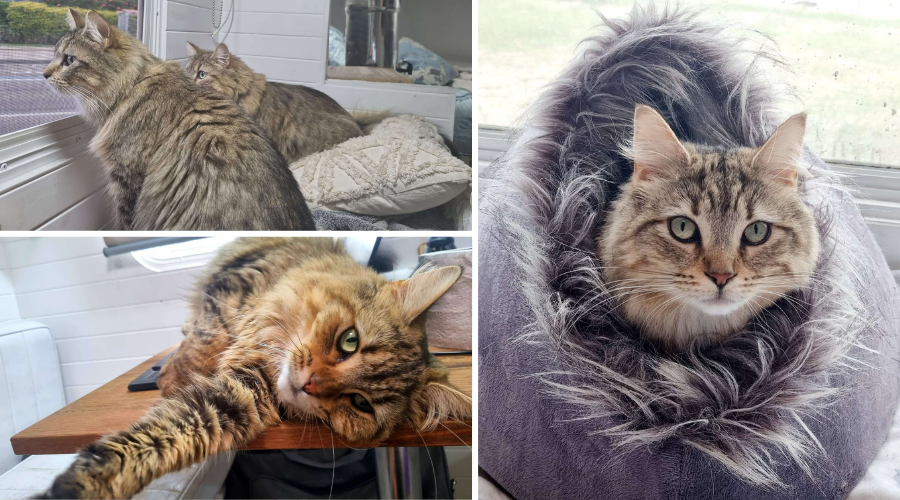 Thank you for taking the time to share this journey with me!
I hope that my Thriver Life can inspire you all to know it is possible to love what you do while doing what you love. This life became possible as a result of releasing my inner trauma with my Narcissistic Abuse Recovery Program (NARP), and living free from it. That is when my real life started to take hold.
Thank you beautiful people for being my Tribe – and I love hearing from all of you about your adventures, travels and future dreams as well as mine!
https://family-court-corruption.com/wp-content/uploads/2022/09/My-Thriver-RV-Travels-Part-3.png
500
900
admin
https://family-court-corruption.com/wp-content/uploads/2021/11/fcc-logo-jpg.jpg
admin
2022-09-26 00:22:43
2022-09-26 00:22:43
My Thriver RV Travels Part 3